Event Management:
Conferences, Trade Shows, Seminars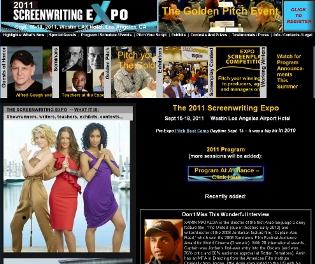 The
Screenwriting
Expo:

See details below.








Need A Business Event, Big Or Small?
Who You Gonna Call?
Call Me.

Executive producer and hands-on manager of 15+ international conferences and trade shows with up to 2,500 registrants, 200 speakers, and 200 staff and volunteers.

I've managed every aspect of conferences, trade shows, seminars, and receptions:


● Conceiving the idea for an event
● Choosing the venue and negotiating venue contracts
● Budgeting and staying on budget
● Food and beverage selection and management
● Selling exhibit space, managing the exhibit hall
● Recruiting speakers
● Hiring staff, recruiting as many as 150 volunteers
● Selecting (and in the early days, creating) the registration system
● Setting up on-site management and registrant-service systems
● Marketing and advertising – planning, creation, delivery
● Master of ceremonies and session moderator
● Creating and hosting receptions
● On-site "solve the problem now" person
● Managing followup.


For example...



Conferences and Trade Shows
On Hospital Clinical Information Systems:
:

In the early 1990s, when the use of computers for medical care in hospitals was just becoming a "thing," I came up with this idea: bring doctors, nurses, hospital CIOs, hospital CEOs, and vendors of health care information systems together to hear early adopters and exchange ideas and business cards.

I ran that meeting for five years in four different U.S. and Canadian cities. Its attendance peaked at 350 attendees and 40 exhibits.




Conferences and Trade Shows
For Screenwriters

From 2007 to 2011, I executive-produced the Screenwriting Expo, the world's largest annual gathering of movie and TV screenwriters and aspiring screenwriters.

I booked as many as 200 speaking sessions and sold space to up to 50 exhibitors. In these meetings, we had an event-within-the-event, the Golden Pitch – the largest "pitch fest" in the U.S. in which aspiring screenwriters could offer their screenplays face-to-face to producers and agents.



Seminars And Smaller Meetings

I've created and run several smaller business and professional seminars and conferences in subject matter including energy policy, information technology, and movie and TV screenwriting and directing.



Webinars and Online Meetings...

Are next on my "to do" list.